Surrounded by a sweaty mass of men. All pushing, screaming, punching. Running full speed at each other. No escape. If someone tries to run out, he's pushed back in. If he wants to rest, someone's going to run into him.
This is the universe of the mosh pit. Where a person's body is a punching bag, a thing to be sacrificed and broken to pieces.
Let's be honest, no sane person would ever agree to this ridiculous ritual. Allowing yourself to get beat up. Sweaty dudes all around you.
And yet, you go to any punk show, these dudes are there. Pushing, punching. Guys with nose rings, big bars through their noses, tattoos up and down their bodies. All attacking the person closest to them.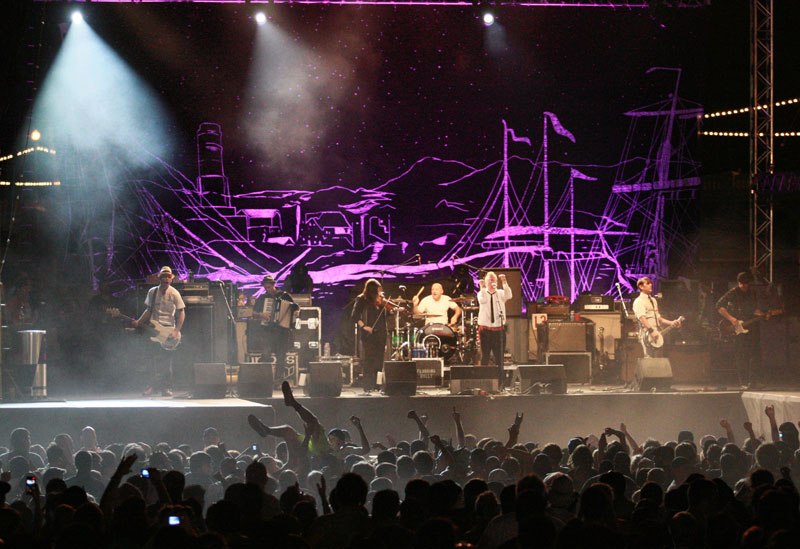 One of my friends, he told me that I would never really enjoy a punk show until I jumped into one of these.
Would you believe this guy? You can't enjoy punk music without getting turned into a piece of cheese, without turning your body into a sacrificial offering?
I didn't believe it. I was enjoying my Flogging Molly just fine with my body intact, thanks.
But then he ran away from me, jumped into the crowd. My friend, this seemingly normal dude that was majoring in Finance, he was suddenly sucked into the tornado of arms and pink hair. Soon, he was hardly distinguishable from the rest.
Sometimes, you sit back in life. You watch as the fools around you are jumping into mosh pits. And man, does it feel good when you're watching them get beat up, and you are nice and safe, unhurt, unattacked, no scars.
But then, this friend, when he came back, he looked me in the eye, and I saw a glimmer. This grin was on his face, this undeniable happiness. He wasn't just happy, though, he was in another dimension. Flying.
And here I was down on earth. Liking the show. Loving it. But still in a world of 3D.
The sidelines are great when we see the guys getting beat up, when we see that they're taking their lumps, that there is absolutely no logic to how they act. The sidelines are wonderful when we're feeling superior, enjoying the show from a distance. But when the folks on the sidelines are confronted with what they're missing, it can be a tough pill to swallow.
And so it becomes clear. We want to have that glimmer on our eye. We want to break into the next dimension. We have no choice, we just gotta let our friend grab us and take us down into G-d's Dance Floor, into the mess on the ground, where all the people are flying around, doing something that makes absolutely no sense.
I remember jumping into that mosh pit. I remember being beaten up like a slab of dough. I remember the pain.
But I also remember that all of that, it was nothing, it dissolved away in the the world I had entered. The world of the mosh pit, where nothing makes sense and everything makes sense at once. The world where I learned to let go of my sense of security and to jump in a world where the rules are broken and rewritten. The world of true punk.