On a Mission
We are all Dreamers, us Chassidim. We were sent down by Hashem, just like our good friend Saito did. And just like Saito, Hashem has a mission for us. One we must accomplish.
Our Hashem, he's willing to buy airlines for us, willing to save us from dozens of anonymous Cobal Engineering cronies, even willing to reunite us with long lost family. All we need to do is just stick to the game plan. Stick to the mission.
Unfortunately, for most of us, this is a hard proposition.
For one thing, Hashem has asked to go as down deep as possible into our dreams. To go all the way down into limbo, where up is down, black is white, and nothing makes any sense. He has sent us as far down as we can go.
But how on earth can we go on such a difficult mission? After all that talk yesterday of the levels of reality, how on earth could G-d send us down to the depths, the bowels of reality, instead of keeping us safe on the Top Floor?
It's so easy to get stuck, so easy to create fake lovers, to think we can create "shades" of reality in our strange and beautiful dream. It's so easy to turn into the guys in the basement, addicted to fakeness. So easy to even convince ourselves that this world is all there is.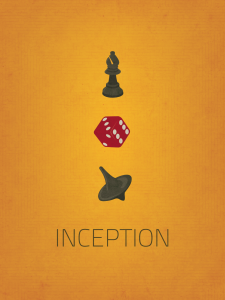 Staying Sane
How does one stay sane in an insane world? How does one focus on his mission when the whole world is telling him there is no mission, when everything around him is tempting him, begging him, like Mal with Cobb, tempting him to believe that his world is real? How do we do it?
One would think we would need signs, miracles. One would think we need whole cities to curl over onto themselves. One would think we need to be able to walk vertically up a street. One would think we need to float and fight bad dudes in zero gravity to remember this world isn't real.
No, even zero gravity can become normal. No, even curling cities are not enough. Because, as we all saw at the movie theater the other day, a curling city is not necessarily the most amazing feat to accomplish.
No, what we need is a small, simple physical object. A reminder from the all the way at the top. Telling us hey, you see that top that just keep spinning? See that chess piece? See that loaded die? Something is wrong in your world if it is acting the way it usually acts in dreams. If your top keeps spinning, if your loaded die suddenly isn't loaded anymore, then something is wrong.
The Totems in Our World
Our world is full of totems. Some small, some big, some cloth, some metal. Some very special ones are boxes with leather straps attached called tefillin.
One example of a totem is (kosher) food. Food, by all rights, should be brimming with energy. It should be radiating spirituality. Literally calling out for us to eat it.
Instead it sits there. Normal. Boring. Whether we eat it or not seems to make no difference.
Ridiculous!
Or how about money? Most of us, when we look at money, we see cars, we see a new television set, we see a dream house. When we get a big fat paycheck, we see a vacation.
How many of us see a paycheck and do a hop, skip and a jump because we can give it to a broken down old school? A homeless shelter? A poor dude on the streets?
Should we blame ourselves that so few of us see that? Should we go around screaming at each other that we're all evil and blasphemous and evil? G-d forbid.
This nature of money, this nature of food, this is how it is in this world. It doesn't radiate truth, it doesn't radiate selflessness.
Instead, it either claims to be nothing at all or claims that it is meant to be used for selfishness.
The world is our totem. Once we recognize that, we can begin to use it properly.
Just like Eames, just like Ariadne, just like Arthur, we need to remember that a totem is an access to the highest world imaginable. When we see that top spinning, when we see that paycheck, and we know what it really means, then we suddenly are thrown right back to the Top Level. And we can accomplish the mission G-d has sent us on.