Let's be honest with ourselves. Circumcision is crazy.
We take a baby, 8 days after he left the womb, 8 days after the being born, and we have a person, not even a doctor, mumble some words, and then cut off part of the most sensitive part of the baby's body.
The problem, you see, is that we try and make it sound logical.
We tell each other, well, it's healthy. Well, everyone does it now. Well, the baby will be better off for it.
We make these arguments because there is a screeching group of fanatics on the other side that are telling us how wrong what we're doing is. How we're horrible people. How it makes no sense!
And so we try to make it all sound smart and logical, and we put out articles about our logical arguments, and we get doctors to sign a petition in our favor, and we argue about it online.
This is a mistake.
Because the truth is, as I said, it doesn't make sense to do this to a baby at that age. At least, it doesn't make sense in the paradigm the secular world inhabits.
In secular life, the physical is what matters. Meaning: life, pain, money, comfort. These are the morals of our society, or, at least, they are becoming the morals. A secular society is focused on reducing the negative forms of physicality, and increasing the positive forms.
In many ways, the religious paradigm intersects this philosophy. We also care about reducing pain, increasing life expectancy, and all the rest.
But for different reasons. We want those things because they give us the ability to lead a more spiritual life.
To the secular society, those goals of reducing pain and increasing comfort, those are ends to themselves.
Viewed from the paradigm of secular society, circumcision makes no sense.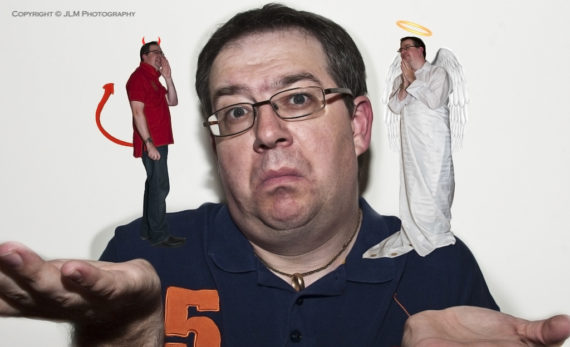 And the problem is that, as a religious community, we are trying to make it fit into that paradigm. We make ridiculous arguments about how it's better for the baby in the long term. While that may be true, it still doesn't justify doing it. From a totally secular point of view, it makes sense to allow a person to wait until they are sexually active to decide if they want to go forward with such a procedure.
From a religious perspective, of course, circumcision makes complete sense. Because the goal of being religious isn't necessarily to avoid pain or to increase comfort. No, the goal of a religious person is to come closer to G-d. To live a G-dly life. To bring spirituality into the physical world.
We have a different paradigm, and that's totally fine. The important thing is to recognize the difference.
Otherwise, we're trying to fit a square peg into a round hole. It not only effects the way others look at us, but it effects the way we look at ourselves. The more we try to argue for circumcision in the paradigm of secular ideals, the more we define our own religion based on secular society.
Things get even worse when we accuse those who disagree with us of being antisemitic. It may be true for some, even many, but for many others it isn't. They're simply living out a different ideal than ours.
The same goes for so many other arguments Jews are beginning to lose in the modern world. Arguments for the existence of Israel and especially settlements, for example. People try to make logical, secular, arguments for these things. The majority of Jews that are pro-Israel try to somehow fit the existence of that bizarre country into a secular worldview.
But how can you justify the existence of Israel? A bunch of Jews decided to plop themselves down on a plot of land they hadn't controlled in generations. It makes no sense. Not if you define the world based on a paradigm that looks at the world only physically, only based on discomfort, on the fact that Arabs are pissed, that Jews have no right to the land. And then to try to argue for settlements as something positive is even more crazy from such a perspective.
No, the only way to be logical in such a situation is to accept that the paradigm for looking at these things is religious. Is G-dly. That the way of life we've chosen isn't going to make sense to the people around us.
The more we do this, the more people won't be able to mess with us. Imagine if we told world leaders that there's no way they can convince us to give up a tract of land because… it's ours. Or imagine if we told the world we do circumcision because… it's the way we make the world G-dly.
It may not make sense at the time to the people around us, but it will force people to have to start examining our worldview.
Until then, we'll continue to be thrown around by the world the way people like Barak in Israel are. We'll continue to lose arguments to the people around us about circumcision and eventually every other religious act we practice.
But when we proudly stand up for our paradigm, for a worldview that is in a completely different sphere from the rest of the world, we'll not only be respected (if not understood), we'll respect ourselves.