When I first published, "20 Photos That Change The Holocaust Narrative"  I had no idea that other people were thirsting so much for a deepening of the Holocaust narrative. Just an overwhelming feeling within me that it was time to start rethinking this moment in our history.
3 years later, I can't help but feel people have an even more urgent need for more of such "new" narratives.  In such a short time, so much has changed.  The world seems to be getting more chaotic, scarier, and more imbalanced every day.  More Jews are again running away from Europe, anger is resurfacing against minorities in our own country, and hate is spreading like wildfire all around the world fueled by scary modern-day Nazis like ISIS.
I can't help but feel a new imperative with this long-planned sequel.  This is no longer about recontextualizing our past.  It is about reenvisioning our future.  And finding strength in the present.
The Holocaust will always be a tragedy, that part of the narrative will never change.  What the original post was setting out to change was not the tragedy, but the human equation within.  To change the idea that Jews, or any people, are perpetual victims.  That even in the moments of deepest darkness (or perhaps especially), an incredible light can shine.  That our tragedies do not define us.
I want to send a message with this post: no matter how dark our world (the one around us or the one within) gets, our spirit has the potential to shine through.  If the only lesson we take from the Holocaust is how evil humanity can be, we have lost its deepest message: how great humanity can be.
I share these 20 additional photos collected over these past 3 years with the hope that you use them to light your life, and the lives of those around you.
Fighting: With Guns, Heart, And Soul
Preemptively Liberated, 1939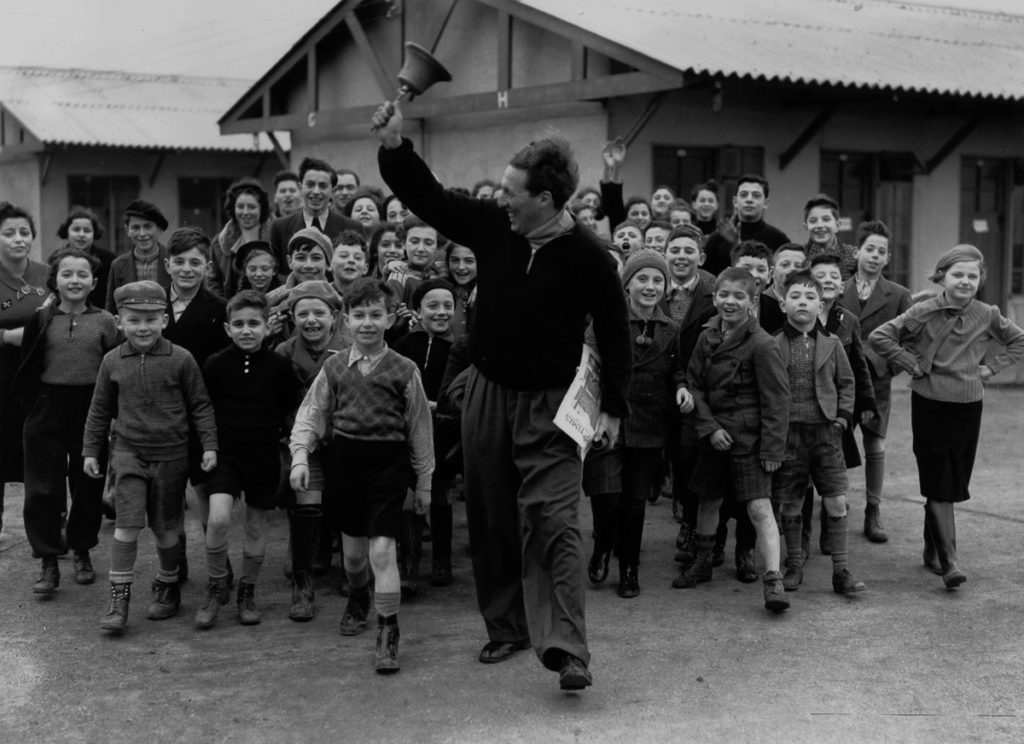 This image shows a group of children who have been taken in as refugees being called for dinner.  They are part of a program in Britain called Kindertransport.  Kindertransport was instituted by the British parliament the moment the Holocaust started, one of the few state-run refugee programs to start so early.  But there was a catch: every child had to be taken in by private citizens who had to pay for the child's expenses and education.
In the end, so many Brits volunteered that nearly 10,000 children's lives were saved, including 2 future Nobel laureates.  Read more about Kindertransport here.
Fighting Nazis in America, 1938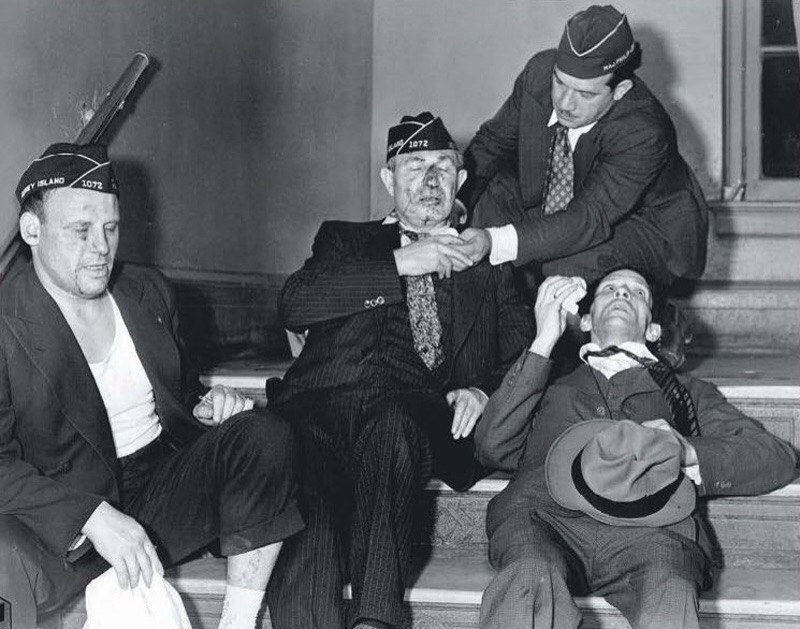 In 1938 New York, a group of 3,500 Nazi supporters gathered to celebrate Adolf Hitler's birthday in an event held at a casino.  Little did they know that littered among them were 100 mostly-Jewish veterans who came to disrupt and protest the event.  The result: a wild fight where 10 of the protesters, who were outnumbered 35-1, were injured.
But what's unseen in this photograph is the ultimate result: police had to be called in because after seeing the injured men, a huge crowd was preparing to storm the casino and attack the Nazis.  Read the full story in a news clipping from April 20th 1938.
The Photographer Warrior, 1943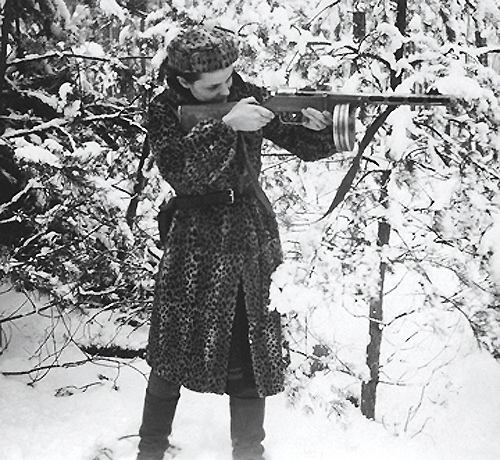 This photograph is actually one of the rare instances where the resistance fighter Faye Schulman was in front of the camera.  Knowing before anyone did how important a photographic record of the Holocaust would be, Faye risked her life to record the work of her fellow resistance fighters.  Maybe if she wasn't the only such photographer we wouldn't constantly have to answer the question, "Why didn't Jews do anything?"
Faye had a message for those people: "Jews did not go like sheep to the slaughter. I was a photographer. I have pictures. I have proof."
Hiding (And Saving Lives) In The Spotlight, 1941-44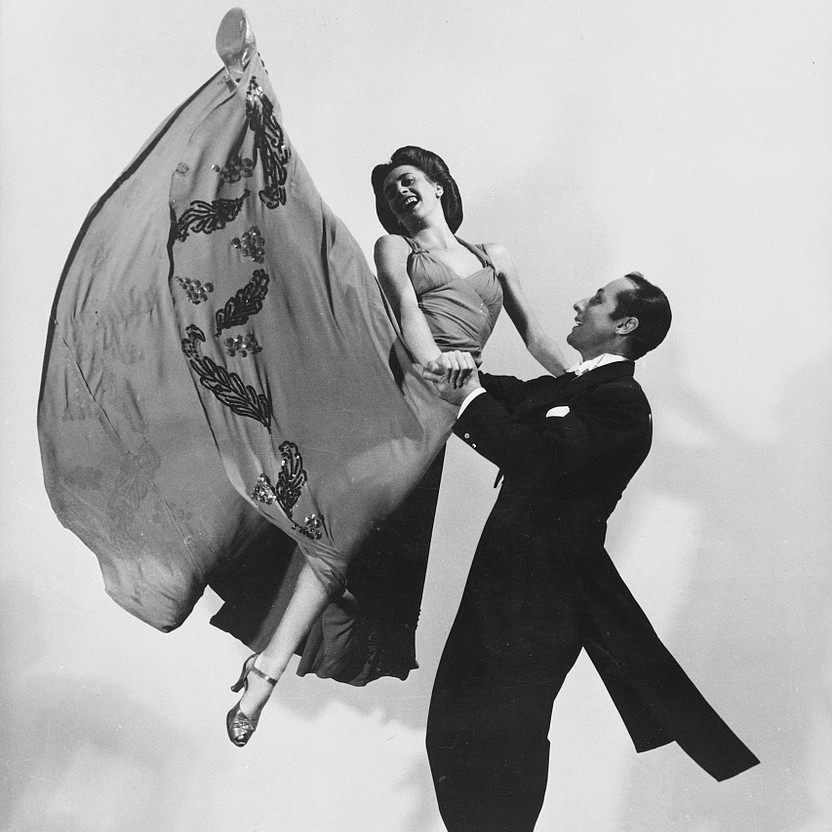 Meet Florence Waren, the dancer whose dancing company in Nazi-occupied France protected her as she pretended to be non-Jewish throughout the war.  Her dance act with her partner Frederic Apcar, shown above, became one of the most famous shows in Paris at the time.
Florence didn't just hide, she used her fame and beauty to aid the resistance.  She hid Jews in her apartment, transported weapons for the resistance, accompanied Jews who were being moved from one hiding area to another.  Read her incredible full resistance story here and her New York Times obituary here.
Stealing A Kiss, 1940-45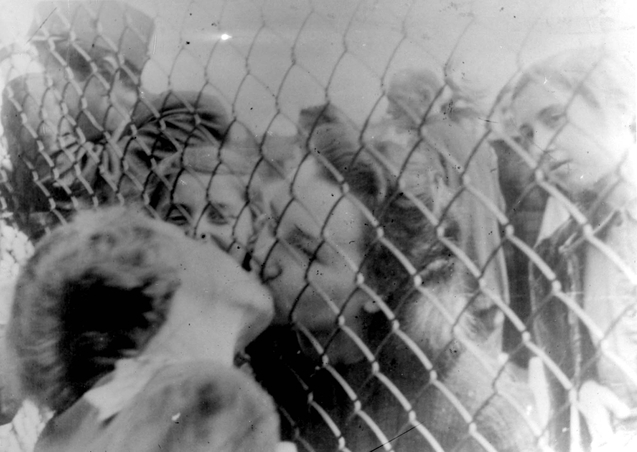 No one will ever know the story behind this photograph.  Like most of the photos by Mendel Grossman, the Jewish photographer who was eventually killed during a death march, this photo was taken without any context except that it was in the Lodz Ghetto.  But the image is so powerful precisely for that reason: it's a moment of pure love, two hearts resisting the hate all around them.
True Victory
Liberating Vilna, 1944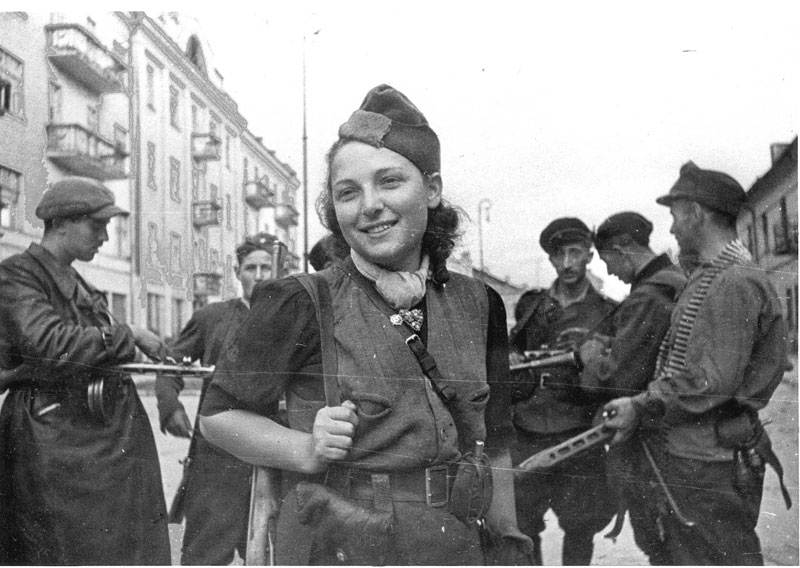 Part of a group of Jewish partisans called, "The Avengers" (yep), Rachel Rudnitzki is pictured here after the Avengers helped the Russian army retake the city of Vilna.  The look on her face inspires me so: not one of relief of being saved, but one of having worked to be part of the saving.  Read a Jewish Telegraph story from 1944 that described one of the key moments before the city fell.
Relief, 1945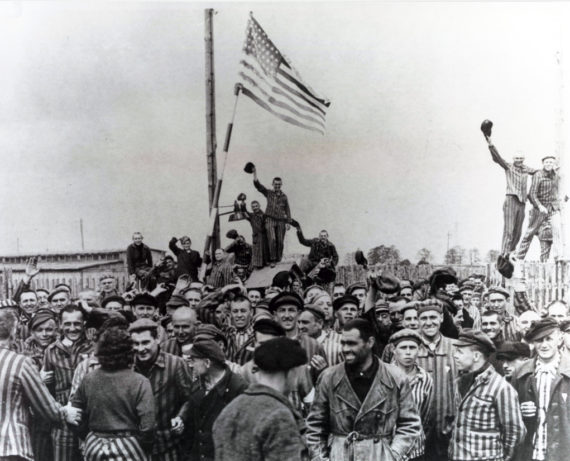 On the other hand, photographs of the relief of rescue are just as beautiful.  This image is the perfect example.  Taken the day Dachau was liberated by the Americans, it shows the utter joy at the moment of freedom.
7 Miracles, 1945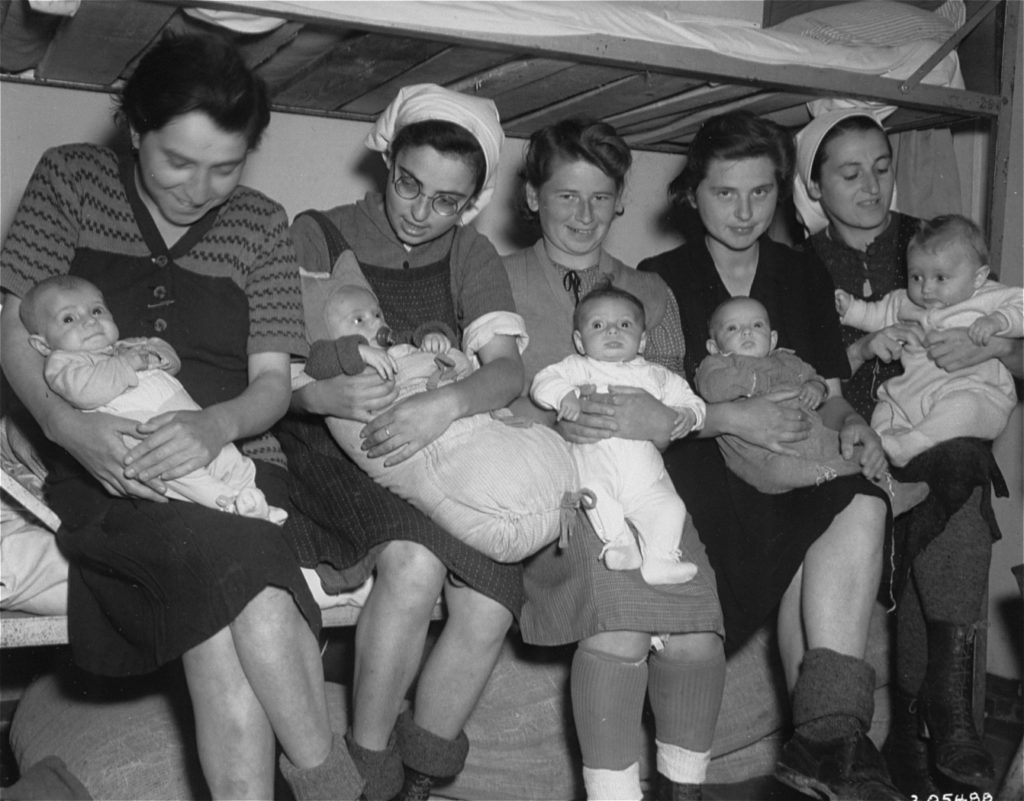 In this image is 5 of 7 women (shortly after their liberation in Dachau) who were pregnant and had given birth, all during the Holocaust.  Each woman is a miracle.  Miriam Rosenthal (not pictured) survived Auschwitz before her arrival.  Eva Fleischmanova (middle) survived two inspections by Josef Mengele.
One by one, they were brought to Dachau and, for some reason (perhaps in the hope of being used as barter with the now-winning Allies) put together into a basement.  Thanks to the help of their fellow inmates, and their helping each other, they managed to survive until their release.  Throughout the experience, one baby after another was born, brought into the world by an inmate who was trained as gynecologist, and whose only tool was a bucket of hot water.
When the Americans who liberated Dachau found the women with their babies, they cried.  Surrounded by a death the soldiers could hardly imagine, they had found a spark of unimaginable hope.
A New Home
A New War, A New Soldier, circa 1945

This is an image of a Haganah (the Jewish paramilitary group that fought for Israel's independence)  soldier who also happens to be an Auschwitz survivor.  His tattoo starkly contrasts with the gun he holds.  His sunburnt, muscular image is the polar opposite of the photos we saw of the pale, emaciated victims of the camps. The man is no longer a victim: he is a survivor.  A warrior.  A fighter.
Unafraid, 1945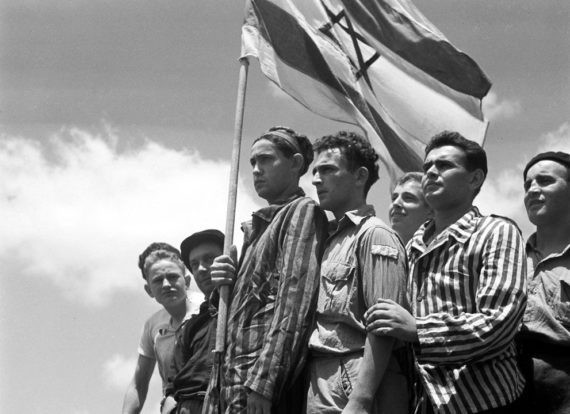 This famous image depicts survivors of Buchenwald on board the ship "Unafraid" as they are about to be arrested by the British for trying to cross into Israel.  The British, at this point, were committed to keeping a quota to limit the amount of Jewish refugees allowed to enter Palestine.  And so, when this ship was discovered, the British announced they would take the refugees to a detention camp in Cyprus.  In response, they hoisted an Israeli flag and collectively sang "Hatikva," Israel's future national anthem.
Incredibly, you can watch this entire event unfold in the docudrama The Illegals.
In 1947, after intense pressure from its citizens and other nations, Britain announced its intention to withdraw from the country no later than August 1948.  On May 14th, 1948, Israel officially became a Jewish state.
Reunited After Horror, 1946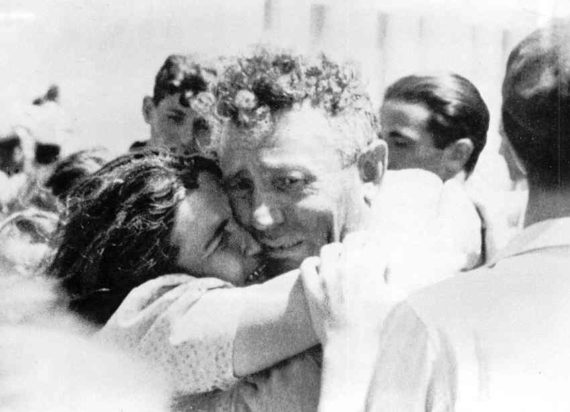 In 1941 they thought they had lost each other when they were separated during the Holocaust.  In 1946, they found each other again in Israel.  This is the moment it happened.
Settled, 1951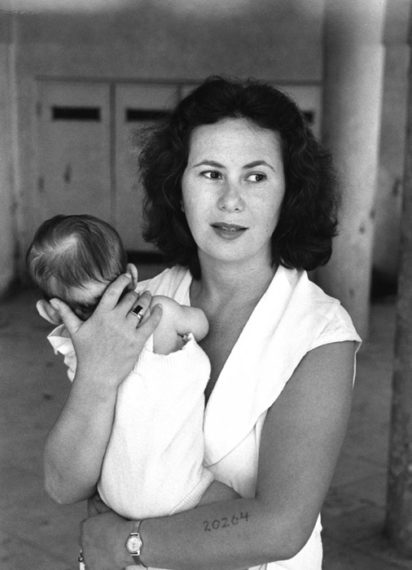 Our Haganah soldier contrasted his tattoo with a gun.  6 years later, this woman, also an Auschwitz survivor, contrasts her tattoo with new life.  Taken by famous photographer Ruth Orkin, this image was sent into me by one of the woman's relatives.
She gave it the following description: "The woman's name in the picture is Lily. She once sang before Dr. Mengalé for his birthday and as a result, she was transferred from Auschwitz to another camp where she worked with electronics. This is how she survived.  She married another survivor and lived in Israel. The picture was taken in Israel shortly after with her holding her baby, Nira."
Thriving Beyond Israel
A New World, 1946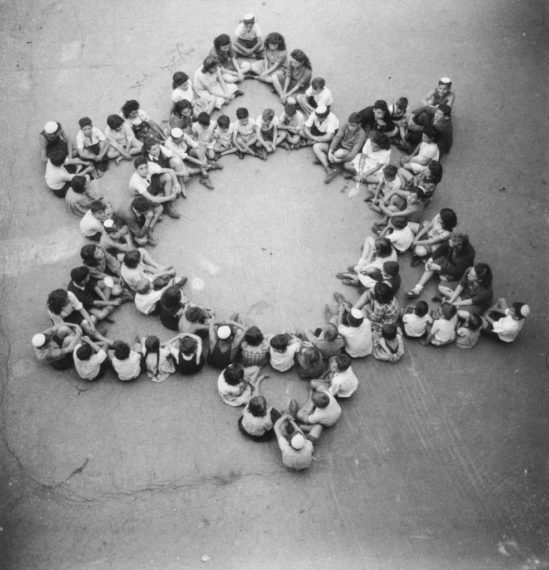 A group of child survivors of Buchenwald sit in the formation of the Star of David.  After the war, the Children's Aid Society in France (a Jewish organization that was part of the resistance) took in 426 children from Buchenwald.  They provided the children with medical, psychological, and educational resources so the children could reintegrate into society.
One of the children was Elie Wiesel, the author of the most famous memoir about the Holocaust, and another was Meir Lau, the future Chief Rabbi of Israel.  In that star of children laid hope.  And a new world about to be built from the darkness.
A New Year, A New World, 1945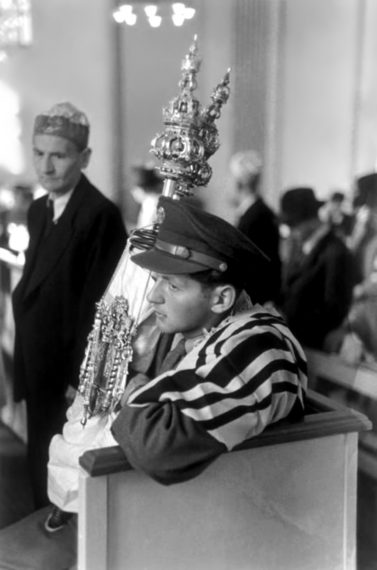 Imagine the same city where Hitler rose to power.  The city where Kristallnacht raged the hardest.  The city where the Holocaust was dreamed up and put into motion.
Berlin.  The city did not have one official Rosh Hashanah service after 1938.  Not one.  And this image is from the first one conducted after the war, in 1945.  In the foreground is a Jewish, American soldier.  In the background, German Jews who have chosen to pray in the place such a thing was unimaginable only a year earlier.
Worlds Saved, 1952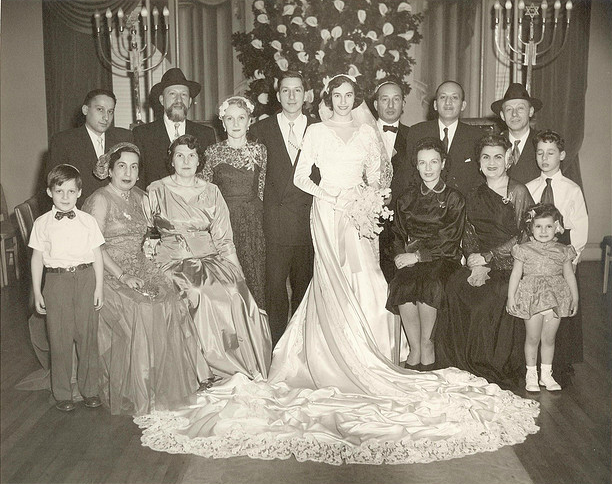 Every single person depicted in this wedding photo in New York City is a Holocaust survivor or the child of a survivor.  They say if you save a life, you've saved a world.  Look at all those saved worlds.  Breathtaking.
Copyright © Noë Gold; used by permission. Noë Gold is the author of Yiddish Glossary For Goyim
and A Sexologist in Nazi Berlin
Living The New Narrative
Israel Over Auschwitz, 2003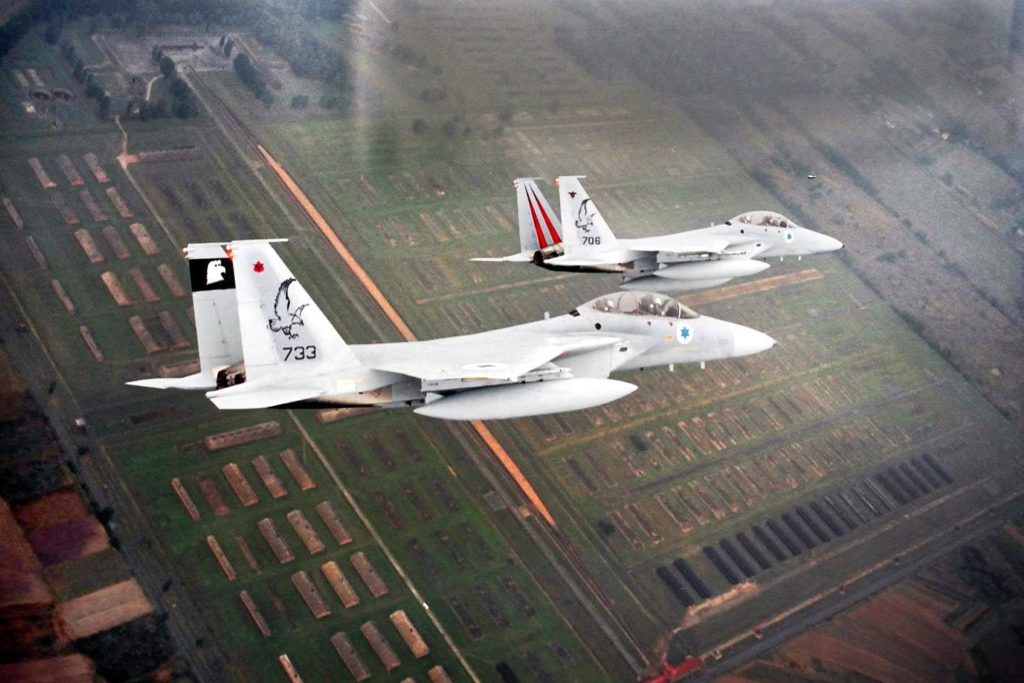 The jets depicted: Israeli Air Force.  The background: Auschwitz.
The leader of the jets, Major-General Amir Eshel, is himself a son of Holocaust survivors.  During the flyover, he transmitted a message to the ceremony below:
"We pilots of the Air Force, flying in the skies above the camp of horrors, arose from the ashes of the millions of victims and shoulder their silent cries, salute their courage and promise to be the shield of the Jewish people and its nation Israel."
"I Am Not My Number", 2011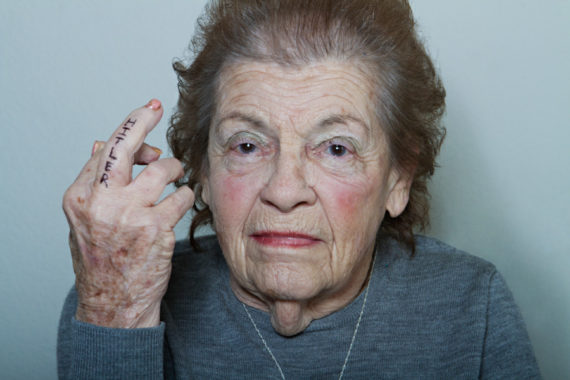 Steve Rosenfield's "What I Be" was a very special project in which participants were photographed sharing their biggest insecurities while simultaneously declaring that those insecurities did not define them.  This photo of Holocaust survivor "Ellen" called "I Am Not My Number" is so incredibly powerful precisely for that reason.  With one gesture, the shackles of trauma are shrugged off.  Ellen may be traumatized.  But trauma does not define her.
He Survived So He Could Save, 2007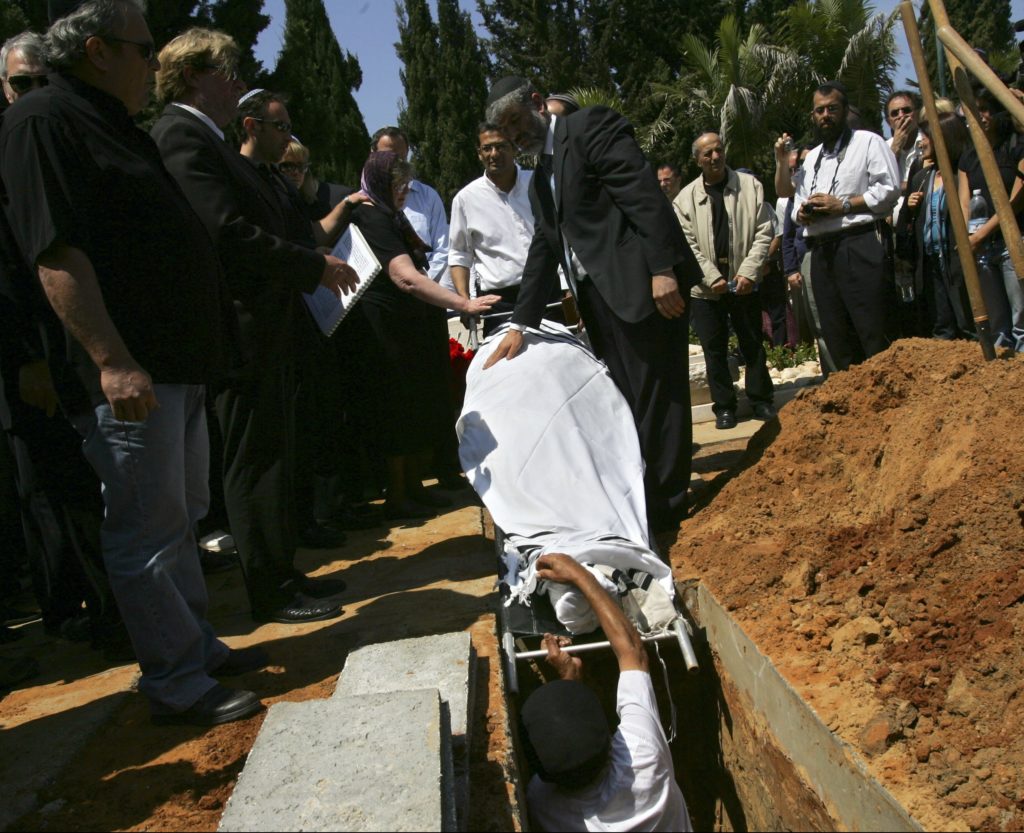 Why an image of a funeral?  This particular funeral is for professor Liviu Librescu, a Holocaust survivor who was killed in 2007 during the Virginia Tech Massacre.  He could have lived.  Instead, as his students escaped out the window of the room that the killer was trying to enter, Librescu stayed back to blocked the door.  He saved all but one of the 20 or so students in the room.
Liviu Librescu died while protecting the next generation from the same mindless hate that he had survived.  And today, Yom HaShoah, is the anniversary of his great deed.
Love Wins, 2013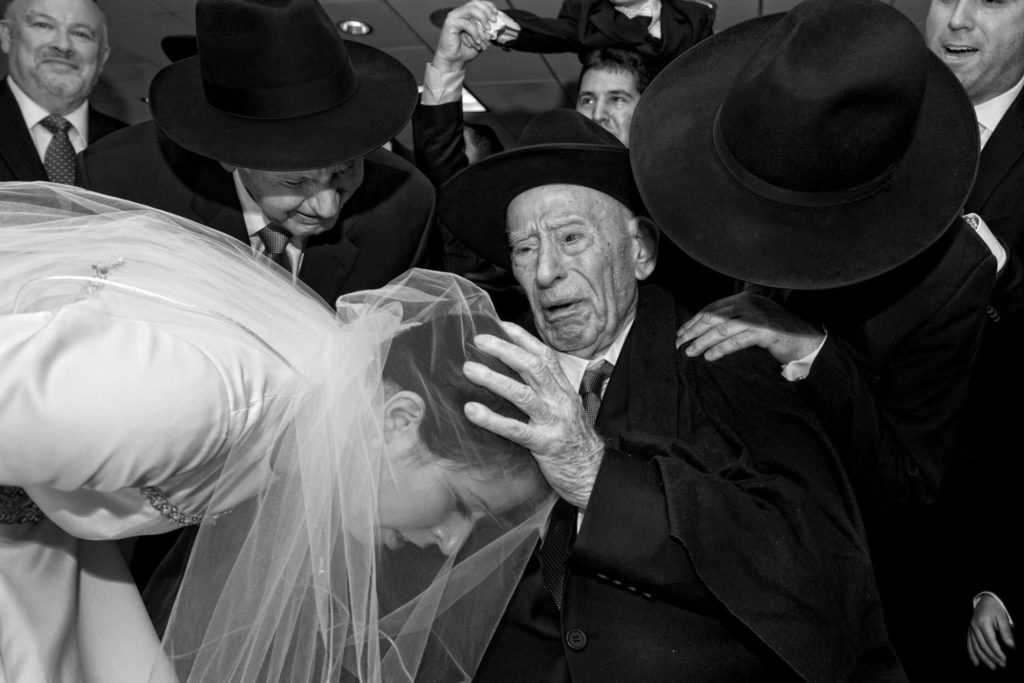 Schaja Kleinberg was one of the last Jews saved by Oskar Schindler.  This perfectly, beautifully timed photograph depicts him blessing his granddaughter during her wedding ceremony.  Kleinberg passed away in 2013 at the age of 93.  He left behind 9 grandchildren and 22 great-grandchildren.
Read his beautiful story.  Photo by Robert Bruce Photography.
Music From The Darkness, 2015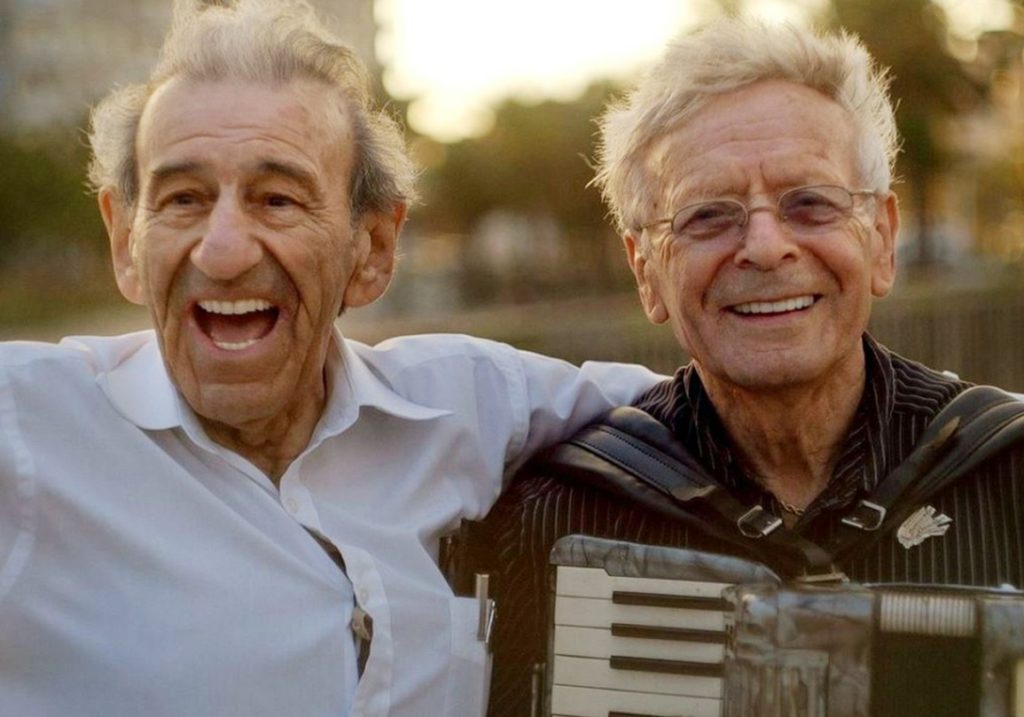 Meet Saul Dreier and Reuwen ("Ruby") Sosnowicz, the two members of the "Holocaust Survivor Band."  It is with these men that I want to end this post because they embody the spirit of its message.  Both men took the darkness of the Holocaust and turned it into pure light.  Saul learned to drum during the Holocaust when he was put in the same barracks as a cantor.  They used music to survive, as he played "drums" by banging two spoons together.  Ruby used the accordion to recover from the Holocaust when he was first given one in a displaced persons camp.
Now they play together in their band and spread a message of joy and life.  Make sure to check out this mini-documentary about their band.
Thank you for reading.  Please don't forget: these are all stories and images that are meant to be applied to our own lives.  There will always be light in the darkness.  You just need to open your eyes.
Like this post?
Check out the original post: "20 Photos That Change The Holocaust Narrative".