There's been a lot of talk about Jewish women recently.  For those of us in the know, it can be a little bit difficult to watch conflict and anger revolving around Jewish women, no matter what side we take in these struggles.  And I guess it would be nice if we could all come together and just acknowledge how awesome Jewish women are, despite any disagreements we may have.
Below, you will find a collection of Jewish women doing brave things; controversial things; beautiful things.  You may not agree with what they're doing or how they're doing it.  But that's not the goal here.  My goal is to show the special soul of the Jewish woman.  Anyone that has seen it up close knows what a power it has. Hopefully these images can help remind us of that.
Historical:
1. The (Jewish) Woman Who Biked Across The World, circa 1895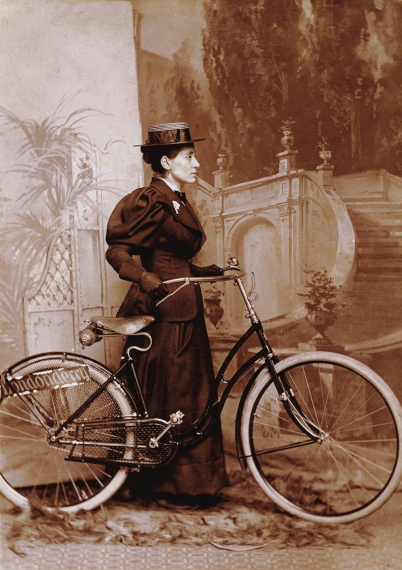 In the late 1800's a young Jewish mother suddenly took America by storm.  What was her accomplishment?  Why, riding a bicycle across the world, of course.  This woman, born Annie Cohen Kopchovsky, but better known as Annie Londonberry, reportedly made a wager with a few boys down at the Boston club that she could not only ride across the world on a bike, but also make $5,000 doing so.  And that she did, taking only a change of clothes and a revolver with her.
Annie made her $5,000 by turning herself into a billboard, wearing advertisements for companies that wanted their names spread through the streets of the world.  She made her way from Chicago to New York to Paris, and continued on to countries and cities like Egypt, Jerusalem, modern-day Yemen, Colombo, and Singapore.
Annie considered herself a "New Woman" and claimed she went on the journey to prove that she could do anything a man could do.  Later, Susan B. Anthony remarked about Annie's journey thusly: "Bicycling has done more to emancipate women than anything else in the world."
2. Protesting To Save Jewish Lives, 1939

In 1939, the British government issued a paper called the, "MacDonald White Paper."  The White Paper called for a single Palestinian state that would be ruled by both Palestinians and Jews.  Believing that this would lead to the eventual massacre of Jews living in the state, the Jewish population immediately moved to protest the paper.  Some did so violently.  Others organized rallies to fight against the White Paper.  The women in this picture were some of the leading women in the community at the time, and organized a completely female rally.  Read more about the women protesters and the women depicted in this picture here.
3. Learning to Vote, 1935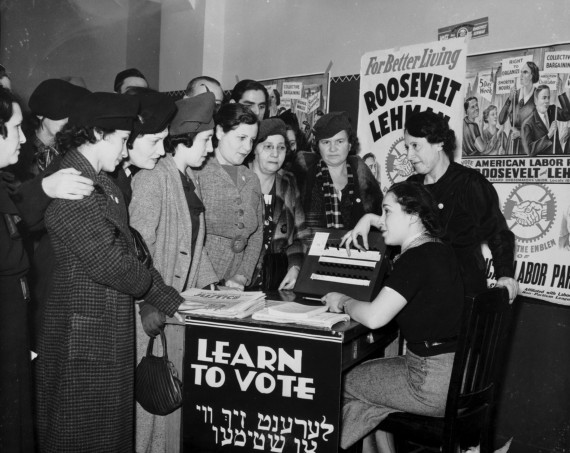 There are many stories within this picture.  First of all, Jewish women had always been at the forefront of women's suffrage in the United States, and this image of them learning to vote (note the Yiddish on the sign in the front) is an indication of their dedication to making women's rights a real and powerful entity, beyond just suffrage.
In fact, this image comes from a collection of an organization called the, "International Ladies Garment Workers Union," one of the most powerful unions at the time, and composed largely of Jewish women.  The organization accomplished a lot for worker's rights, a thing that was almost hard to imagine happening, especially at the hands of women.
4. Learning How To Wear Gasmasks, 1942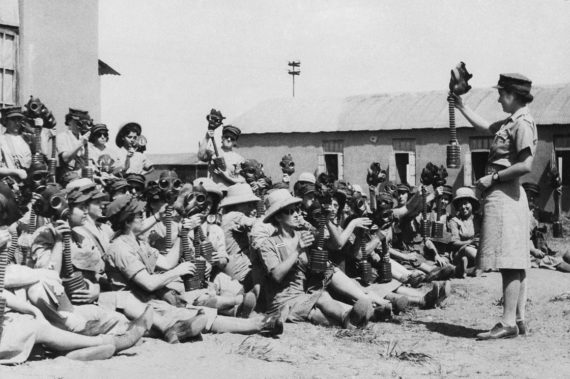 This fascinating photo is of women in the, "Palestine Auxiliary Territorial Service" in the British Army.  Many of the women in this unit were sent to the Egyptian front during the war.
5. Giving Matzo To Patients At A Military Hospital, 1952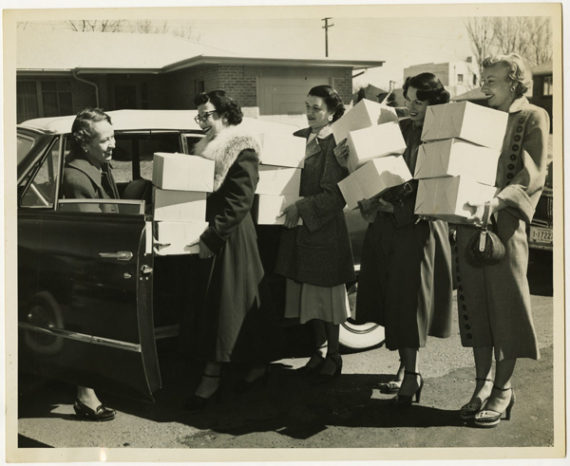 The text on the back of this photograph: "A hospital visiting committee sets out to bring Passover food packages to patients at a military hospital near Denver, Colo. At the door of car receiving packages: Betty Moses, chairwoman."
Modern:
6. Praying Near Tzfat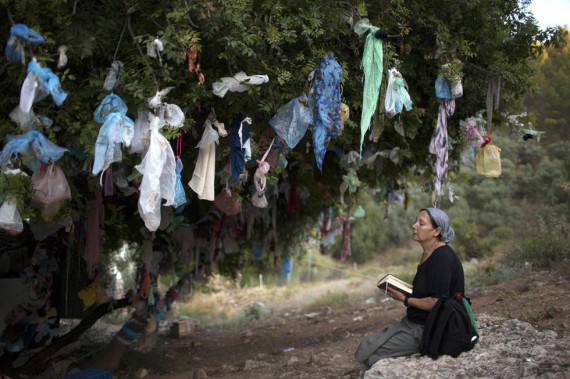 Near the ancient, mystical city of Tsfat, there is a tomb of a famous scholar known as Yonatan ben Uzziel.  It is known as a special place to pray for marriage, for children, and more.  From what I understand, women looking to get married hang headscarves there after they pray.  Either way, the image of this woman with a look of connection to something higher is stunning.
7. A Woman, a Soldier, and Haredi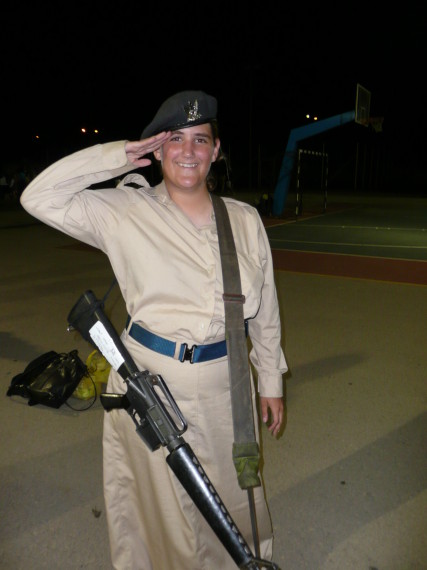 This image was submitted by Fayga Marks herself, a woman who defied cultural norms within her community in order to fight for her country.  As she says herself, it was her "dream" since she was a child.  The vision and the bravery of such a decision is really amazing.  Read her story here.
8. The Perfect Peace of Shabbos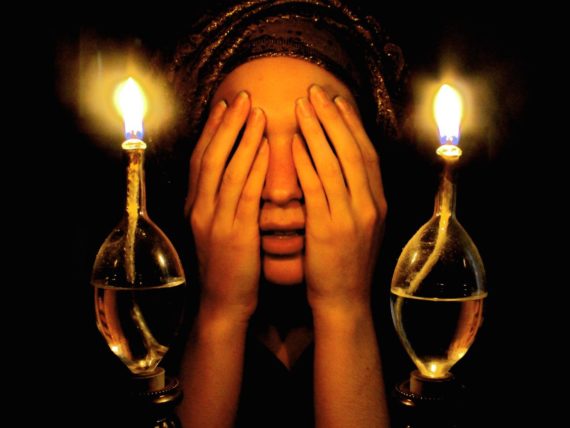 This image was taken by a photographer and overall creative awesome-o known as Ani Lipitz.  I became a huge fan of Ani's after I discovered her hilarious blog, #WHATSHOULDWELCHAIM.  I became an even bigger fan of her's after discovering her gorgeous photography.  This image was a contribution to the very cool Fifty-Two Frames project.
9. The Power of One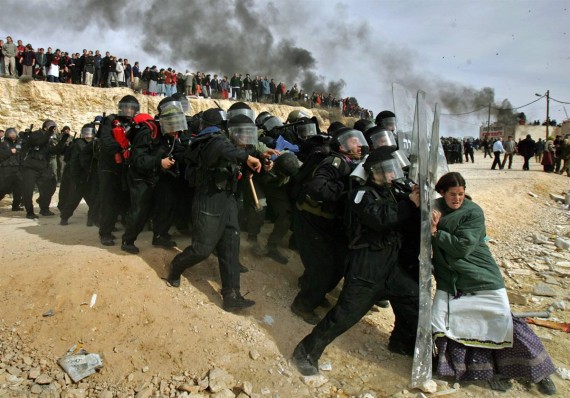 Perhaps the most famous image of a religious Jewish woman in the modern era, this photo entitled, "The Power of One" and shot by an AP photographer witnessing the evacuation of settlements in 2006.  The image of a sixteen year old settler fighting against a mass of policemen shows the utter determination of the women settlers in Israel.  There are, I'm sure, many different reactions one could have to this picture.  Either way, it shows a strong woman determined to make her will known despite incredible odds.
The woman, Ynet Nili, was later interviewed about this photograph.  Here's what she had to say: "You see me in the photograph, one against many, but that is only an illusion – behind the many stands one man – (Prime Minister Ehud) Olmert, but behind me stand the Lord and the people of Israel."
10. Sister Survivors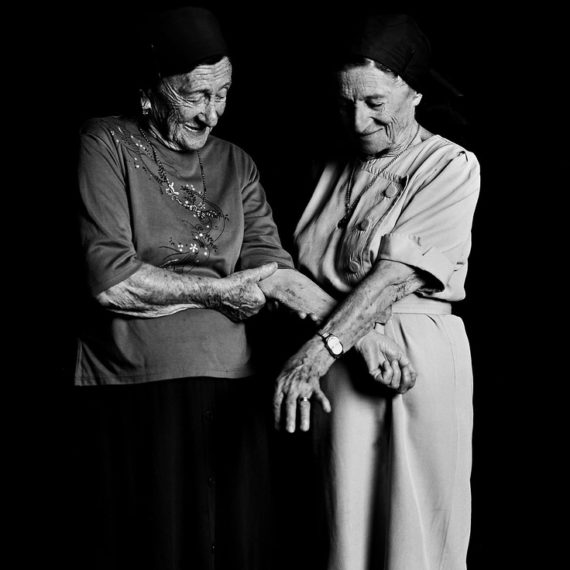 These sisters, 86 and 83, are shown in this image looking at each other's Holocaust number tattoos.  I swear I'm going to try not to do so many Holocaust related photos after my last image post, but I just couldn't help myself after I saw this picture.  Especially after I read what one of the sisters said: "We've seen each other every day for the last 70 years, checking up on one another."
Beautiful.
This post is dedicated to the awesomest woman in the world, my wife Rivka, and to the sweetest cutie pie in the world, my daughter Tanya.