I've always wanted to do a photograph post on tefillin ever since someone suggested to me that I do one.  Tefillin (aka phylacteries) is the classic mitzvah that many Jews immediately think of when they think of Judaism.
After some digging I decided not to just make this photograph post, but an "image post".  That means that some of the images in here are also art.  The idea is to help us think outside of the box (get it?) when we think of tefillin.  To help us wake up so that when we, or those close to us, wear tefillin, that we see how special of a mitzvah it really is.
1. Santa Wraps Tefillin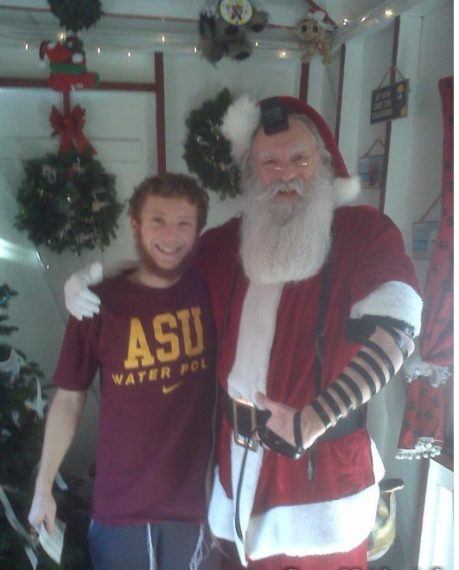 Perhaps one of the most well-known images these days is this special one of this Santa putting on tefillin.  Even more amazing, according to this article, this appears to be the first time this particular Santa had ever wrapped tefillin.
2. Spiderman Wraps Tefillin, Too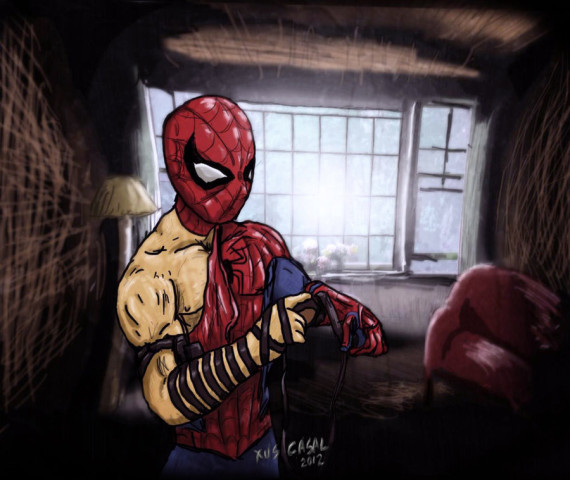 I absolutely love this piece of art because I think it so perfectly encapsulates what it means to be a Jew.  You go out, do your work for the day, but what really matters is what's underneath the costume.  Check out more by the artist on Devianart.
3. Wrapping Tefillin In Tel Aviv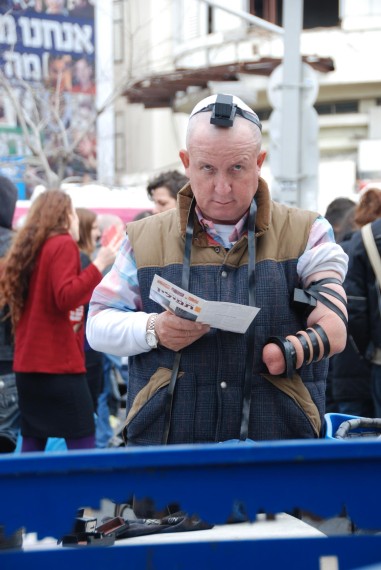 There's something about this image that really reminds me of Israel.  Taken by Humans of Tel Aviv.
4. A Buddhist Putting On Tefillin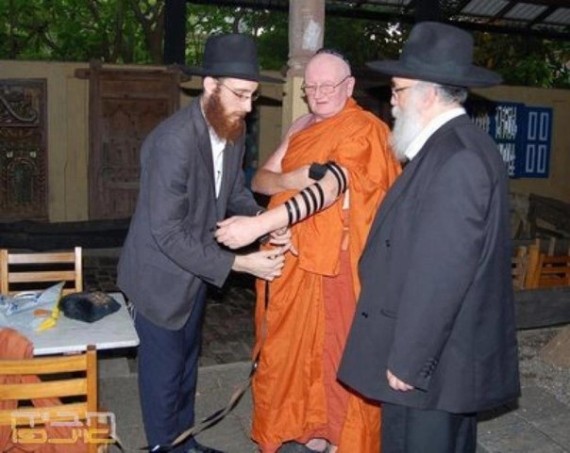 This is another one of those famous tefillin photos floating around.  I haven't been able to find any background information about this picture, but it clearly depicts a Jewish Buddhist monk wearing tefillin.
5. Tefillin In The Shuk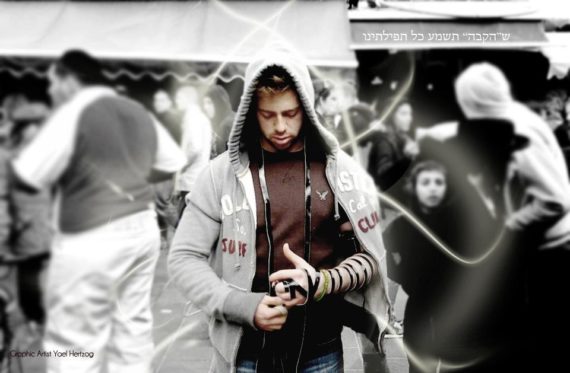 I absolutely love this image by Yael Hertzog.  It was taken in the shuk in Jerusalem, and beautifully depicts the spiritual power of putting on tefillin.  Gorgeous.
6. Etched Tefillin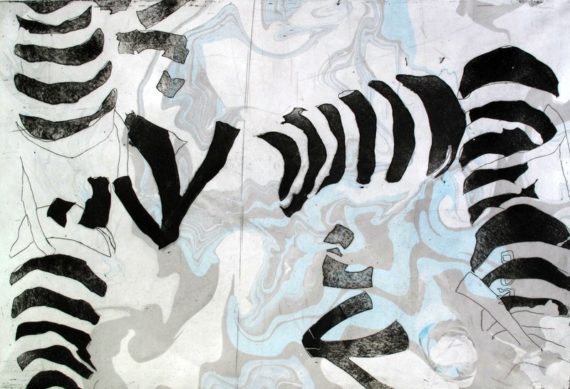 This etching was actually made by my wife, Rivka Nehorai.  I personally haven't seen many other abstract pieces of work based off of tefillin, and I absolutely love how this etching looks so powerful but also so trippy.  I'm so proud of her work.
7. Tefillin After The Storm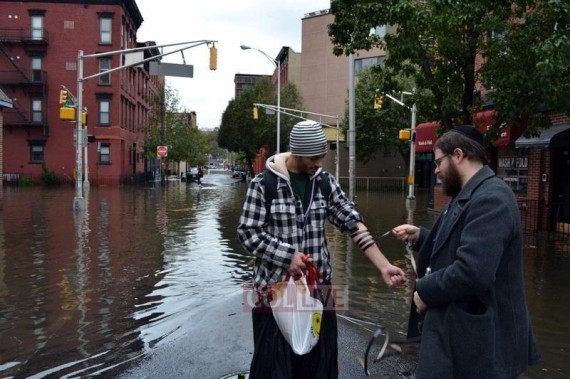 It's no coincidence that so many of these images are of Chabad shluchim wrapping tefillin on others.  The fortitude of these rabbis is beyond incredible.  This image depicts Rabbi Moshe Shapiro, whose Chabad House was destroyed by Hurricane Sandy, wrapping tefillin on another victim of the storm.  Read about his experience on COLLive.
8. Tefillin At War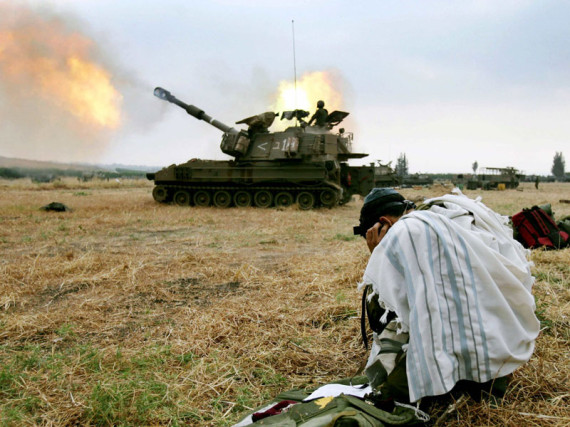 9. Tefillin For Survivors (Part 1)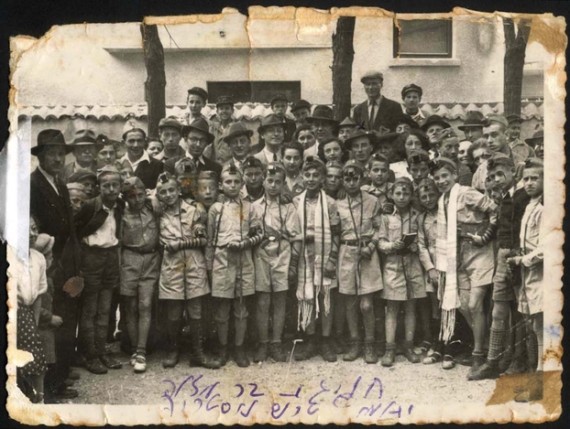 Taken in Bukarest, Romania, in 1944, this photograph depicts a bar mitzvah celebration at an orphanage for Holocaust survivors.  I was unable to ascertain if this is a collective bar mitzvah for boys who missed their bar mitzvahs in the camps, or if it is one boy's celebration.  Either way, this is a powerful photograph.  Source: Yad Vashem Photo Archive.
10. Tefillin For Survivors (Part 2)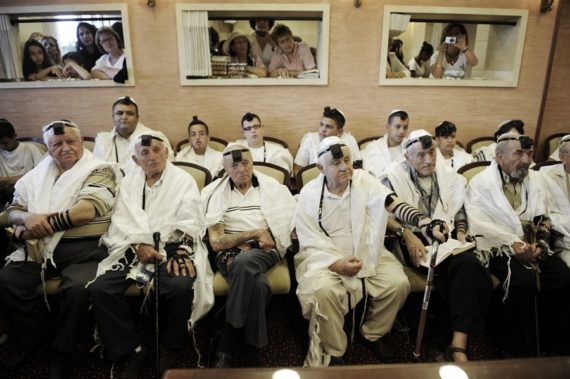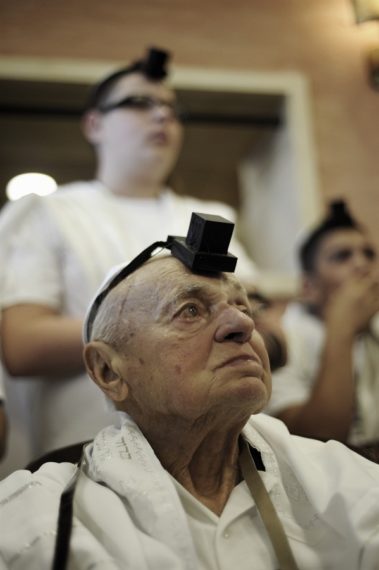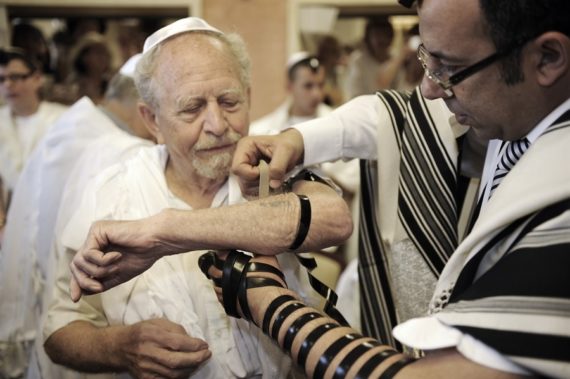 I had to cheat and include three photographs for this one.  They are just too powerful.  These images depict six Holocaust survivors who were unable to have a bar mitzvah because of being in the camps, and finally had a collective bar mitzvah in Ashkelon, Israel in 2012.
Previous photo posts:
10 Photos to Remind You That Jews Are Strong